Posted on | November 27, 2012 | 47 Comments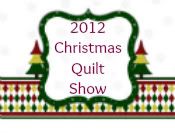 I have only just realised that the 2012 Christmas Quilt Show has started. This year it is being organised by Michele at Quilting Tutorials. Hop on over to have a look at the lovely Christmas inspiration.
I have chosen one of my favourites as my entry for this year. It is titled Reindeer Mischief and is a pattern from Keryn Beischer. ( Unfortunately many of her patterns are no longer available.)
It is a small wall hanging that I like to display every year, because it has a humorous approach to the festive season.
My quilt definitely belongs in the Christmas section of the quilt show.
And just to keep the mood going, here is a Santa from my collection.
Head on over to see all the lovely quilts on show.